Telephone Consumer Protection Act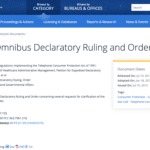 The Telephone Consumer Protection Act (TCPA),  47 U.S.C. § 227, is a federal statute enacted in 1991 designed to safeguard consumer privacy. This legislation restricts telemarketing communications via voice calls, SMS texts, and fax. July 2015 the FCC released the TCPA Omnibus Declaratory Ruling and Order to clarify a number of points within the TCPA. Specifically, the new rules state,
• Opt-in, marketers must receive an opt-in, or double-opt-in, before messaging a mobile subscriber.
• Opt-out, Consumers may revoke consent to receive calls or SMS/MMS messages.
• Telemarketers may not use an automated dial system to call or text a wireless phone.
• Telephone service providers can offer robocall blocking to consumers.
• Telemarketers must keep their records updated and may not contact a reassigned wireless or wired phone number.
• Consent 'survives' when a person ports their landline phone number to a wireless number.
• Some 'urgent circumstances' still allow a company to call or send SMSes to wireless phones without prior consent, such as alerts about potential fraud or reminders of urgent medication refills. However, the company instigating such communications must offer consumers an 'opt-out' option.
This post should NOT be considered legal advice. Consult an attorney to ensure you thoroughly understand the regulations and how they may or may not apply to your business. (47 U.S.C. § 227).