This article was published by the MEF, on June 3, 2022.
Early last month, the MEF held its first-ever event dedicated to personal data and identity event: MEF CONNECTS Personal Data & Identity Hybrid, on May 10 and 11th, in London (watch all the videos here). It was unquestionably a huge success. Hundreds of people came together to learn, interact, and make an impact.
A Transformative Agenda
The event covered a wide range of strategic, tactical, and technical topics. In addition to recruiting the speakers and programming the event, I spoke on The Personal Data & Identity Meeting of the Waters and introduced The Identity Nexus, an equation that illustrates the social and commercial personal data and identity equilibrium. Together we discussed:
Leading identification, authentication, and verification strategies
The pros and cons and comparisons of various biometrics methods, including FaceID and VeinID
People's attitudes and sentiments at the nexus of personal data, identity, privacy and trust across 10-markets and U.S. undergraduate students
Passwordless authentication and approaches to self-sovereign identity and personal data management
Where personal data and identity meet physical and eCommerce retail, financial services, insurance, automotive, the U.S. military, and healthcare
The role of carriers and data brokers in improving the customer experience along the customer journey, identification, and combating fraud
Strategies for onboarding the over billion people today without an ID, let alone a digital ID.
The rise of the personal information economy and seven different approaches to empowering individuals to give them agency, autonomy, and control over their personal data and identity
Zero-party data strategies
Demonstrable strategies for securing IoT data traffic
Environment, Social, and Governance (ESG) investment personal data, and identity investment strategies
Emergent people-centric/human-centric business models
The rise of new regulations, including GDPR, CCPA, and new age-verification and age-gating regulations and the impact they'll have on every business
Frameworks to help business leaders at every level figure out what to keep doing, start doing, or do differently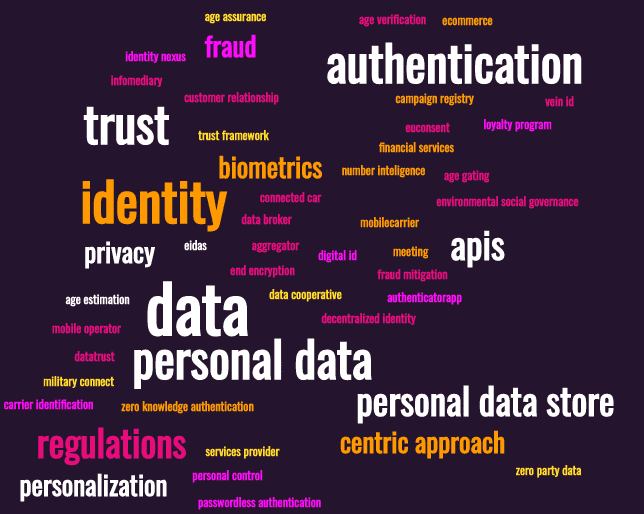 MEF CONNECTS Personal Data & Identity 2022 Wordcloud
By the Numbers
The numbers tell it all –
It was an honor to share the stage with so many talented people and a hug shout-out needs to be given to our sponsors and to the Mobile Ecosystem Forum team who executed flawlessly.
We're Just Getting Started and I'm Here for You
The global data market generates $11.7 trillion annually for the global economy. Industry experts forecast that efficient use of personal data and identity (not including the benefits of innovation, improving mental health and social systems, IoT interactions, banking and finance, road safety, reducing multi-trillion-dollar cybercrime losses, and more), can add one percent to thirteen percent of a country's gross domestic product (GDP). And we're just getting started. The personal data and identity tsunami is just now reaching and washing over the shores of every society and economy. No region, no community, no country, no government, no enterprise, no individual, no thing, is immune to its effects.
I'm here to help. I can help you get involved with the MEF Personal Data & Identity Working Group, understand the global and regional personal data and identity market, build and execute a balanced personal data & identity strategy and products, build people-centric customer experiences at every touchpoint along your customer journey, meet new people and identify and source partners, educate your team, impact global regulations, standards, and protocols, identify programs and events that can help you and your organization learn, grown and make a difference. Connect with me on LinkedIn or schedule a call with me here.
Meet with Me In Person in June
I'll be speaking at the MyData 2022 in Helsinki on June 20~23. If you can make it, please connect with me, and let's meet up (ping me if you need a discount code to attend).
#APIs #AgeAssurance #AgeEstimation #AgeGating #AgeVerification #Agency #Aggregator #Assurance #Authentication #AuthenticatorApp #Biometrics #C #CampaignRegistry #Carrier #CarrierIdentification #Compliance #ConnectedCar #ConsumerSentiment #Control #CustomerRelationships #Data #DataBroker #DataCooperative #DataTrust #DataUnion #DecentralizedIdentity #DigitalID #ESG #Econometrics #End-To-EndEncryption #EnvironmentalSocialGovernance #FaceID #FinancialServices #FingerprintID #Fraud #FraudMitigation #Identity #Infomediary #Investing #IoT #LoyaltyProgram #MEF #MarTech #MeetingOfWaters #MeetingofWaters #MeetingoftheWaters #Messaging #MilitaryConnect #MobileCarrier #MobileOperator #NumberInteligence #Organizational-CentricApproach #OrganizationalCentricApproach #PasswordlessAuthentication #People-CentricApproach #PeopleCentricApproach #Pers #PersonalControl #PersonalData #PersonalDataStore #Personalization #Privacy #RAISEFramework #Regulation #Research #Retail #SMS #SMSOTP #Self-regulation #SelfSovereignty #ServiceProvider #TheIdentityNexus #Trust #TrustFramework #TrustbutVerify #VeinID #ZeroKnowledgeAuthentication #ZeroPartyData #data #decentrlaizedidentity #eCommerce #eIDAS #euConsent #identity #personaldata #privacy #selfsovereignidentity #usercentricidentity @AegisMobile @AerPass @AgeVerificationProvidersAssocation @Assurant @BritishTelecom @CheetahDigital @Ctrl-Shift @Dataswift @Digi.me @Fingo @Freelancer @GlobalMessagingService[GMS] @HitachiEuropeLtd @IG4Capital @IPification @IdentityPraxis @IdentityPraxis,Inc. @IdentityWoman @Infobip @InsightsAngels @LeadingPoints @Mercedes-BenzCars @MobileEcosystemForum @MyDex @NatWest @PoolData @Sinch @Skechers @Spokeo @Twilio @Visa @Vodafone @Volvo @WomenInIdentity @WorldEconomicForum @XConnect @ZARIOT @iProovLtd @polyPoly @WEF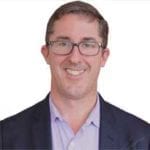 Michael Becker is an intentionally recognized identity & personal information management solutions strategic advisor, speaker, entrepreneur, and academic. He advises companies on personal information economy business strategy, product development, business development, and sales & marketing strategies. He also represents them at leading trade groups, including the Mobile Ecosystem Forum. Michael is an advisor to Assurant, Predii, Privowny, and Phoji. He is the co-author of Mobile Marketing for Dummies and a number of other books and articles related to mobile marketing, identity, and personal information management. He is on the faculty of marketing of the Association of National Advertisers and National University. A serial entrepreneur, Michael founded Identity Praxis, co-founded mCordis and The Connected Marketer Institute, was a founding member of the Mobile Marketing Association (MMA), and was on the MMA board of directors for ten years and was MMA's North American Managing Director for three years. In 2004, Michael co-founded iLoop Mobile, a leading messaging solutions provider. In 2014, Michael was awarded the 2014 Marketing EDGE Edward Mayer Education Leadership Award for his commitment to marketing education.