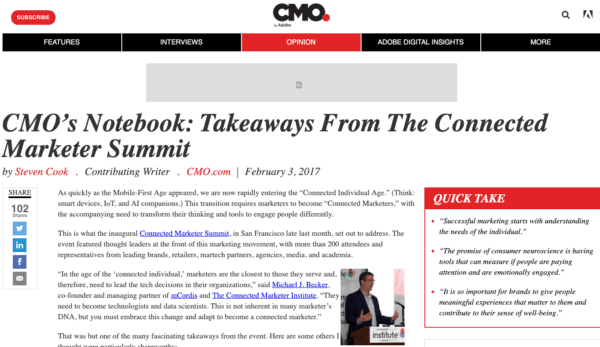 Steve Cook, a columnist for CMO.com interviewed Michael Becker on key takeaways from The Connect Marketer Summit, a conference he co-organized.
Interview Excerpt
As quickly as the Mobile-First Age appeared, we are now rapidly entering the "Connected Individual Age." (Think: smart devices, IoT, and AI companions.) This transition requires marketers to become "Connected Marketers," with the accompanying need to transform their thinking and tools to engage people differently.
This is what the inaugural Connected Marketer Summit, in San Francisco late last month, set out to address. The event featured thought leaders at the front of this marketing movement, with more than 200 attendees and representatives from leading brands, retailers, martech partners, agencies, media, and academia.
"In the age of the 'connected individual,' marketers are the closest to those they serve and, therefore, need to lead the tech decisions in their organizations," said Michael J. Becker, co-founder and managing partner of mCordis and The Connected Marketer Institute. "They need to become technologists and data scientists. This is not inherent in many marketer's DNA, but you must embrace this change and adapt to become a connected marketer."
That was but one of the many fascinating takeaways from the event. Here are some others I thought were particularly shareworthy:
According to Paul Berney, co-founder and managing partner at mCordis and The Connected Marketer Institute:
• "The senior marketers presenting all emphasized that a brand is a collection of experiences–physical, digital, sensorial, and emotional–and you have to appeal to all of those."
• "Successful marketing starts with understanding the needs of the individual. … This is so basic but seems to have been forgotten by many marketers who are focused on tactics as they digitally transform their martech operations."
• "Martech offers incredible opportunities to engage with individuals but can be hard to understand and hard to master. It takes education and practice, and that takes time. Many speakers emphasized there is no silver bullet and that marketers need to put in the time to get this right."
(Click here for more on Berney's perspective.)
Read the complete interview with Becker here.