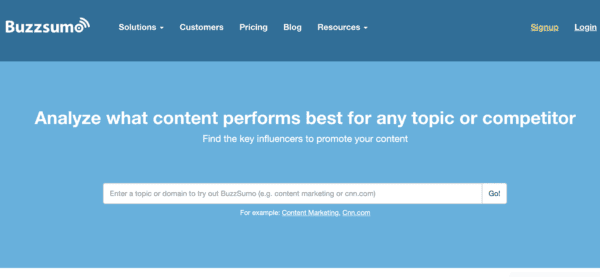 Let's face it, achieving success is not easy. It takes a lot of effort, skill and luck to be successful. What is considered success will vary by the organization and by the individual; however, in whatever way you define success, it is clear that many things need to come together to be successful.There are many drivers to being successful. Three drivers of success include goal setting, reflection and measurement. As a business, you need to set your goals, reflect on what you're doing and measure what you're doing to see if in fact your efforts are getting you closer to your goals. Coordinating these three drivers of success is not easy and in fact there are many factors that one should consider to propel your efforts.
Last year we came across a content marketing solution provider, Buzzsumo; in fact, we wrote an article about them. Buzzsumo provides an on-demand Internet software solution, i.e. SaaS offering, that helps organizations plan and manage content by using their tool to analyze tending content themes on any topic or competitor. It is an incredibly useful tool for helping guide content marketers in their effort to understand what people are interested in.
In its first year, Buzzsumo reached a great goal. They achieved $2.5m in revenue! As noted above, there are many factors that need to come together for an organization to achieve success like this. Thankfully, Buzzsumo reflected on their success and in an article shared 22 factors they see as being key contributors to their success. Here they are,
The product matters more than marketing
Influencers matter
Be growth focused
Churn is a killer, make the product sticky
Grow revenues by developing the product
Traffic and momentum builds over time
Content marketing takes time
Create unique content based on data
Give away everything you know
Employ the very best staff you can afford
Partnerships
Mentors
Freemium can be effective marketing
Be aware of your cost of customer acquisition
Beta test and listen to your users
Pricing is difficult
Customer service, track your NPS
Innovation matters
You are building a brand
Keep learning
Use SaaS tools
Be flexible, stuff happens
Please, be sure to read the full piece where they explain each of the factors above.
Here is to 2016 and success for all. May you identify and reflect on the factors that will lead to your own success.