mCordis' Michael Becker discusses mobile engagement with Daniel Dreymann, CEO and Cofounder of Mowingo. Mowingo works with brands and agencies (most recently McDonald's–see image) to develop apps that will engage people when they are away from the store—inside the store—near the store—and leaving the store. Mowingo can either enhance another brand's existing app or create an entirely new one.
Listen to find out how Mowingo was able to take a national campaign and tailor it to fit local preferences through time-sensitive notifications using GPS and iBeacon geolocation technology. Also, hear about the latest beacon technology by Beaconix, addressing the two biggest problems in beacons: 1) infrastructure management 2) content updates and delivery. Back from its debut at CES 2016, Beaconix created cloud-connected beacons which lets each beacon to communicate with its neighbor. This allows each beacon to be updated with new content remotely rather than the time-extensive process of updating each beacon individually.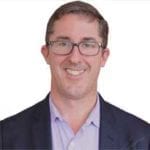 Michael Becker is an intentionally recognized identity & personal information management solutions strategic advisor, speaker, entrepreneur, and academic. He advises companies on personal information economy business strategy, product development, business development, and sales & marketing strategies. He also represents them at leading trade groups, including the Mobile Ecosystem Forum. Michael is an advisor to Assurant, Predii, Privowny, and Phoji. He is the co-author of Mobile Marketing for Dummies and a number of other books and articles related to mobile marketing, identity, and personal information management. He is on the faculty of marketing of the Association of National Advertisers and National University. A serial entrepreneur, Michael founded Identity Praxis, co-founded mCordis and The Connected Marketer Institute, was a founding member of the Mobile Marketing Association (MMA), and was on the MMA board of directors for ten years and was MMA's North American Managing Director for three years. In 2004, Michael co-founded iLoop Mobile, a leading messaging solutions provider. In 2014, Michael was awarded the 2014 Marketing EDGE Edward Mayer Education Leadership Award for his commitment to marketing education.