Co-authored with Andy Favell and Paul Berney.
A responsive brand reacts quickly to consumer demand – not just supplying what the company thinks shoppers need, but providing what customers actually tell the company they want. A transparent brand is not afraid of maintaining an open and honest relationship with its customers. Armed with a smartphone, the connected shopper is not only a few taps away from a wealth of news, reviews and opinions about your company, products and competitors. Not only does this mean that purchasing decisions are far better informed, but also that shoppers can easily add their feedback on your brand to this wealth of information.
The connected shopper shouldn't be seen as a threat, they're a business opportunity. Increasingly brands are using the mobile web and apps to guide consumers as they shop; and to respond to their concerns and suggestions via social media. Many brands are already recognize this need for directed shopping and transparency but BrandSpark believes shopper engagement should start much earlier in the product life-cycle, so its Shopper Army works with consumer packaged goods (CPG) brands to test and provide real-time feedback, even before a product is launched.
"But we do respond to customer questions on Twitter and Facebook…"
There are many elements to being a responsive brand. One of the most obvious is listening and responding to what consumers say about your brand, company and business on social media. In the age of the connected shopper, there are no more secrets – Futurist Gerd Leonhard once declared the coming together of mobile and social media as "the end of lying". But many companies don't use social media to gauge consumer opinion, they simply use it as marketing tool, another medium to broadcast their message. Research from Brandwatch (Jan, 2015) suggests that the majority brands are unresponsive even when Twitter messages are sent directly using the company's official @brand handle.
Those companies that do respond often do so in a formulaic, even dismissive fashion, sometimes forgetting that social networks, such as Twitter, are public forums, where replies are visible for all their followers to see. Their social engagement is usually reactive, rarely proactive – i.e. these brands deal with customer comments using standard responses, but do not actively solicit opinions.
Inviting customer questions… and answering them
Faced with falling profits and adverse publicity (Forbes, Jan 2015) around the world, what should a brand like McDonald's do? Try to learn from other brands, as suggested by MediaPost (April 2015)? Well, maybe. But actually the company took the bold move of placing its trust in its customers and asking them what they think. In "Our food. Your questions" – the highly acclaimed campaign that ran first in Canada, Australia and New Zealand, and has now been running in the US since late 2014 – the fast-food chain boldly answers, in public, any question that customers wish to ask. McDonald's has even made some changes to the way it sources food as a result. As evidenced by this excellent video case study from the Canadian campaign, openness and transparency deliver results.
Inviting customer suggestions… and implementing them
Multinational coffee chain Starbucks encourages customers to offer suggestions, on all matters from drinks and food to loyalty and social responsibility, via My Starbucks Idea, which other people can give the thumbs up or thumbs down to. The company has implemented hundreds of ideas since it was first launched in 2008. Innovations such as "skinny" drinks, digital rewards, free WiFi and mobile payments, all started as customer ideas. Today Starbucks customers, there are 16 million active users of their app, make 8 million mobile transactions a week, constituting 19% of transactions (Internet Retailer, April 2015), which is a pretty good example of why it pays to listen to your customers.
Other companies have also tried so-called "co-creation" ventures. In the UK, potato chip brand Walkers received a 1.2 million entries to its 2014 "Do us a flavor" competition, where the winning entry received £1 million (US $1.5 million). Packets of all the finalist flavors were produced, and customers around the country voted for the best flavor. In the US, Walmart's "Get on the shelf" campaign encouraged Americans to submit their ideas for new products. However, this competition hasn't run since 2013, which suggests it wasn't as successful as Starbucks' on-going program.
US start-up Quirky takes consumer engagement and co-creation to a different level. Its whole business model is based on sourcing product ideas from the consumer community, then asks other consumers to rate the ideas. The most popular – and feasible – of these, Quirky then invests in bringing to market – with some success stories, such as the Quirky Pivot Power flexible power strip. The most remarkable thing is the speed to market: Quirky can take a product idea and have it on a Walmart shelf in as little as 29 days. This process that a takes typical CPG company like Johnson & Johnson or Proctor & Gamble about 300 days (SingularityHub, April 2015).
"Hyper-transparency is a must. It's not something we should be afraid of; it's something we welcome," Jim Hanna, environmental impact director, Starbucks (Guardian, Oct 2013).
Transparency is closely related to responsiveness. Smartphones and social media have empowered a connected shopper to make much better informed brand/product choices than previous generations. It has turned consumers into citizen activists ready to use social media to let companies know their will, and to expose companies' unpalatable secrets. No longer able to control the message, companies have embraced transparency, not just in sustainability and ethical trading, but also in all aspects of supply chain; business practices; privacy and data protection policies; through to ingredients (for food and beverage). The Guardian (Feb 2015) has dubbed "2015: the year of hyper-transparency in global business" – highlighting Mars, Nestlé and Unilever as leaders when it comes to disclosure.
Transparency has become marketing opportunity, or as MediaPost (Jan 2015) points out: "Transparency is the new black". US restaurant chain Chipotle Mexican Grill, markets itself based on "food with integrity" highlighting food sustainability issues through social videos such as the "Scarecrow" (2013), viewed 14 million times. Another good example is Target "Made to Matter", launched by the US retail chain in April 2014, a grouping/co-branding of well-known sustainable brands sold by Target. Amazon Elements, launched in December 2014, takes this one step further with a range of own-brand sustainable products from the global e-commerce giant. Amazon claims these products are based on what customers want, learned from reviews, rather than based on business need; manufacturers are closely vetted for sustainability. The entire product details are revealed when the customer scans the barcode using their smartphone.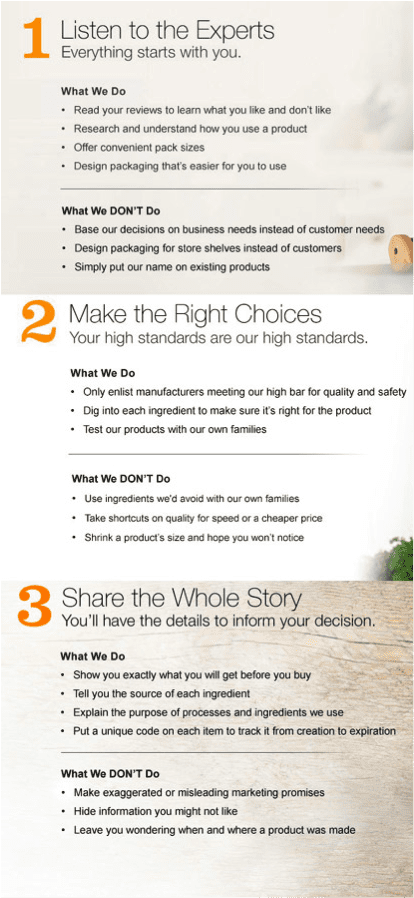 "1. Listen to the experts. Everything starts with you." Amazon Elements customer charter.
Within six weeks of launch of Amazon Elements, the retailer pulled its Soft and Cozy Diapers, following poor customer feedback (GigaOM, Jan, 2015). This suggests that when it comes to product development, the company didn't actually listen to the "experts" – its consumers. If it had followed its own advice, Amazon might have saved itself some adverse publicity e.g. New York Post; Guardian.
The customer is always right
This mantra – the customer is always right – was coined over 100 years ago by Harry Gordon Selfridge (of the famous London department store). It's not always correct for every customer in every situation (see Huffington Post April, 2015). But when it comes to product development, there's no doubt that companies can get valuable insight from consumers, helping them to develop, refine and market their new products. The problem has always been that it is costly and time-consuming to do pre-launch testing at any meaningful scale, but mobile technologies enable consumers to test products in their own home and feedback in real time, considerably reducing the cost.
Customers are not only willing, but also expect brands to solicit consumer opinion before creating products. This is particularly the case with Millennials (20- to 40-year-old consumers) who have grown up in the open-platform world of the omnipotent consumer. Research by YPulse (Sept, 2013) found that 81% of Millennials said they would be interested in helping a brand or company design a new product, and 87% of Millennials say brands should get consumers to give opinions before creating them.
We can't promise that your customers will come up with anything as ground-breaking as the Skinny Latte or mobile payment, but they will help you to tweak your product, packaging or campaign for maximum impact. They may even help prevent you bringing a stinker to market, or prevent an embarrassment in traditional or social media.
The Shopper Army
The Shopper Army, from BrandSpark is a highly engaged community of 1,000s of consumers, ready to test your products and provide valuable feedback pre- or post-launch. The Shopper Army is live in Canada and the USA, and is coming soon to China, Turkey and Mexico. Read the latest case study: Truth or Dare, as the US Shopper Army put P&G's yet to be released Crest dental health products through their paces.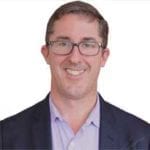 Michael Becker is an intentionally recognized identity & personal information management solutions strategic advisor, speaker, entrepreneur, and academic. He advises companies on personal information economy business strategy, product development, business development, and sales & marketing strategies. He also represents them at leading trade groups, including the Mobile Ecosystem Forum. Michael is an advisor to Assurant, Predii, Privowny, and Phoji. He is the co-author of Mobile Marketing for Dummies and a number of other books and articles related to mobile marketing, identity, and personal information management. He is on the faculty of marketing of the Association of National Advertisers and National University. A serial entrepreneur, Michael founded Identity Praxis, co-founded mCordis and The Connected Marketer Institute, was a founding member of the Mobile Marketing Association (MMA), and was on the MMA board of directors for ten years and was MMA's North American Managing Director for three years. In 2004, Michael co-founded iLoop Mobile, a leading messaging solutions provider. In 2014, Michael was awarded the 2014 Marketing EDGE Edward Mayer Education Leadership Award for his commitment to marketing education.