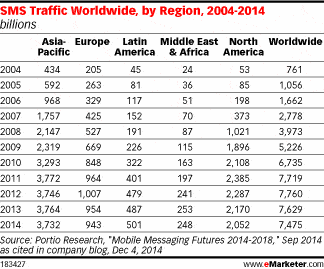 Upon waking up this morning, like most of us, one of my first actions was to pull out my phone and scan for the latest news.
One article in particular that caught my attention, was eMarketer's piece Are We Watching the Death of SMS? (Note: to view the complete article you need to be an eMarketer subscriber, something I highly recommend to everyone looking to stay current in the ever-changing field of marketing). SMS, like Mark Twain in response to a mistakenly published obituary notice about his death, should remark: "the reports of my death are greatly exaggerated."
The eMarketer article maps out Short Message Service (SMS) traffic volumes between 2004 and 2018 as reported by Portio Research, and compares them to estimated 2013 and 2018 Over The Top messaging (OTT) volume estimates from Park Associates. The following table defines SMS and OTT.
Short Message Service, SMS, Short message service, a wireless carrier standard for delivering short, text-only messages, usually limited to 160 alphanumeric characters, from person to person or from a business to a consumer. SMS is universally available on smartphones and feature phones. Commonly referred to as "text messaging." SOURCE: www.mobileanhouraday.com
Over The Top, OTT, Over-The-Top (OTT) describes (often data-intense) services that are delivered via a mobile operator's, or ISP's network, but which delivers no revenue to the carrier. These include audio services, such as Spotify or Pandora; and video services, such as YouTube and Vimeo. But of particular note, are the messaging services such as Whatsapp or Facebook Messenger, and voice over IP (VOIP) services, such as Skype, which compete with operator's core business of voice and messaging. SOURCE: mCordis
According to the eMarketer piece, SMS volumes (see table below) peaked in 2012 at 7.7 trillion messages (Park Associates estimate the peak at 9 trillion) and is now in the decline phase of its lifecycle. By comparison, OTT messaging is seeing rapid growth from 10 trillion messages in 2013 to 67 trillion messages estimated by 2018. The impact of this decline in SMS volume, is presumably due to an increase in OTT messaging adoption, though we can't be sure, will be the cause of a decline in mobile operator SMS revenues to the tune of roughly $2 billion between 2014 and 2018.
Follow the Consumer, But Not Over The Cliff
A common adage for marketing success is to "follow the consumer". Based on this adage and the numbers above, marketers could easily come to the erroneous conclusion that SMS is dying if not a "dead man walking," and that they should start divesting SMS marketing from their marketing mix and budgets immediately. But, don't jump yet! I'm here to discourage you against this view.
Sure, the numbers are speaking for themselves. Consumers are not as active as they once were with text messaging, but these numbers are not telling the complete story.  
SMS can be more effective in getting the message across
The sheer increase in OTT messaging volume does not necessarily mean people are getting more from OTT than from SMS. Take a look at an example SMS vs. OTT message flow below as suggested by Portio Research. In this example, OTT messaging generated 9 more messages than SMS, but the engagement did not generate more meaning. SMS was much more concise in getting the point across.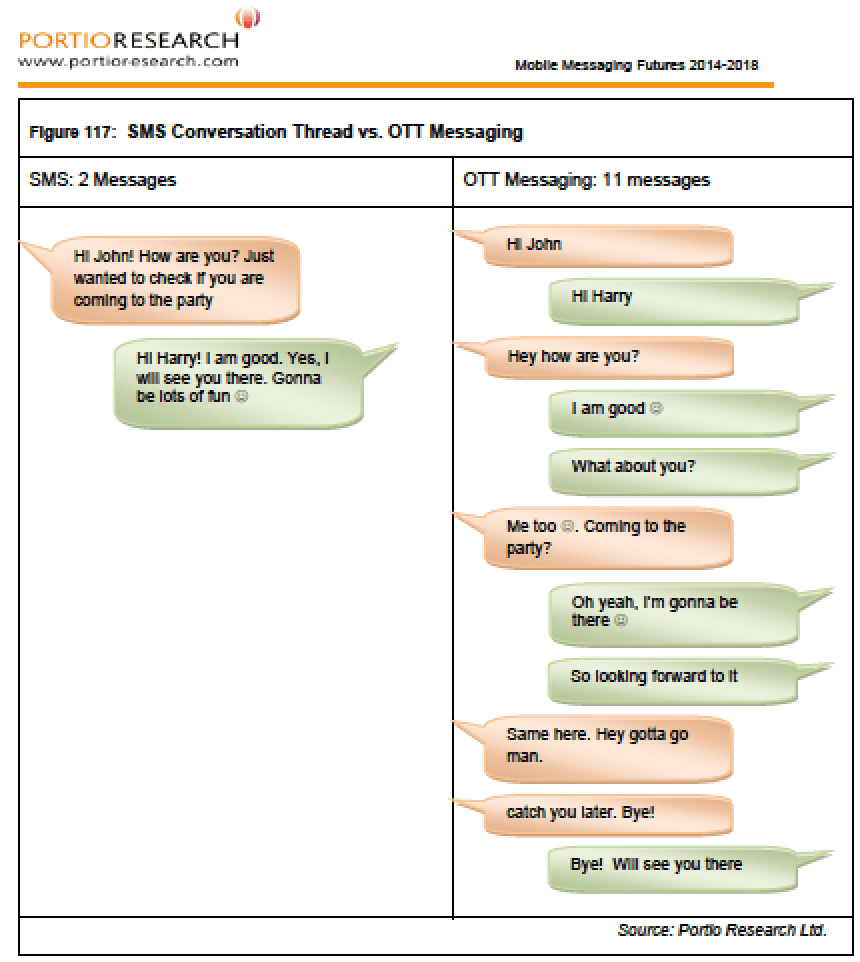 SMS Has No Fragmentation
Unlike OTT, which is fragmented across communities like Facebook, WeChat, Line, etc., SMS is not a community.  SMS is a dedicated inbox — it is one person wanting to hear from you. Consumers that opt-in and give you permission to message them are asking you to interact with them directly with SMS. You won't have to compete for the consumer's attention by trying to insert your message into a consumer's private OTT conversation.
SMS Has Reach
SMS has a much bigger potential reach than OTT messaging. In order to use an OTT messaging service, a user must be registered with the OTT community, download an application to their phone or be logged in to the OTT messaging service via the browser. With SMS messaging, none of this is required. Nearly every mobile phone on the planet today supports text message. All you need to do is leverage your traditional media to invite people to text into your marketing campaign or service in order to hear from you via SMS or MMS. You can then regularly message them if they've opted into your alert programs and services or if you're responding to their interaction with your one-time marketing campaign.
SMS applications are broad
For the majority of marketers, OTT is a promotional and advertising vehicle. You can place your promotional message within the user's message stream and hope you are seen. SMS, however, is much different. True, it can be used as a promotional vehicle, but unlike OTT promotion, you're messaging to an individual that has specifically opted-in to hear from you.  Also, SMS can be used for a wide range of additional applications, including receipt delivery, loyalty program engagement, customer service, security alerts, identity verification, and so much more.  SMS is much more flexible than OTT.
You're in control of your asset
With SMS you're in control. When consumers opt-in to your database, you are building an asset. Consider SMS as your own "owned media" and you control the timing and content of all interactions with the database. With OTT communities, you're an invited guest at best. At worst, you're a tenant farmer building up someone else's asset.
These are just a few of my thoughts based on the SMS vs. OTT traffic numbers. I could easily go on but we'll leave it at that for now.
BTW, if you'd like to hear from mCordis, please join our mobile insights SMS/MMS channel by texting mCordis to 55155 (STD messaging rates may apply; U.S. mobile subscribers only). We'll share curated industry insights once or twice a week, including our thoughts on mobile marketing, key industry stats, relevant mobile marketing terms definitions, publication and event announcements and more.