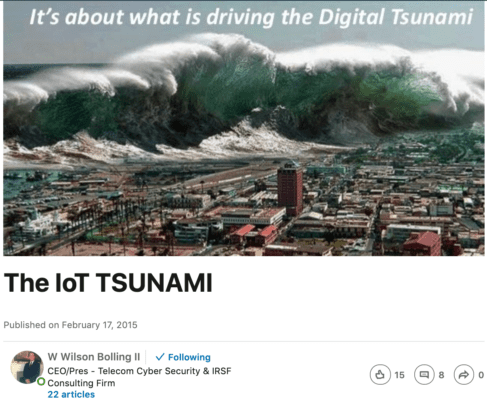 A friend of mine sent me a note late last week titled "thought you would like this image!" with a link to a blog post, The IoT TSUNAMI, by W W Bowling. She was absolutely right, I loved it. Thanks, Katie.

Bowling's key message is clear – prepare yourself and your company for digital (the Internet of Things, the Internet of Everything) or perish. The team at mCordis could not agree more.

We're faced with a digital transformation that is changing everything. It is important to remember that nothing stays the same, everything around us is constantly evolving and changing. Some changes happen slowly and others can happen very quickly. For example, my daughter grew two inches over the last few months. One day she was starring at my chin and today she is looking me right in the eyes. I did not see that coming!

We've seen digital coming for over half century, since the launch of the first computer. But the tsunami of digital, the first of many mega-digital waves to crash over us all, did not appear until 8 years ago with the announcement of the iPhone in 2007 and its release in 2008. The wake of the iPhone release started the trend of putting a super-computer in everyone's hands and triggered unprecedented changes in consumer behavior. It also triggered countless secondary waves of innovation, some to be considered tsunamis in their own right, wearables for example. The impact of all these waves has transformed the foundations of business and society, they'll never be the same.
Digital has become ingrained in all that we are and do. It has influenced and is influencing the evolution of our mind, body and spirit in ways that very few, if any, understand and can predict, just think Franz Kafka and you'll get the idea.