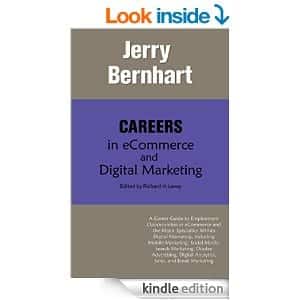 If you're just getting started in marketing, have been at it a while, or are looking to staff your open digital and eCommerce marketing positions, I highly recommend you take the time to download and read through Jerry Bernhart's new book Careers In eCommerce and Digital Marketing, which is available on Amazon as a Kindle Edition for $9.99.
"If you've been thinking about getting 
into digital marketing, now is the time to do it!," 
says Amy Africa (p7).
Jerry has been a successful marketing and sales executive recruiter for over a quarter century and he has integrated his direct experience with insight from numerous interviews to write this book. The book explains the:
various job categories available with digital and eCommerce marketing
best sources of digital marketing jobs
hottest new jobs being created in the digital marketing space
education resources that help candidates gain an edge, both in their search and their careers
variety of digital marketing career paths available
skills, experience, and other key attributes candidates need to position themselves for digital marketing jobs
digital marketing jobs of the future
how to work with an executive recruiter
Jerry notes, "Digital marketing is at the early stages of a golden era of employment. Employers are scrambling to lure the best talent available" (p 5). I agree with him.
It is very hard to be a marketer today with out embracing digital, this book will help.