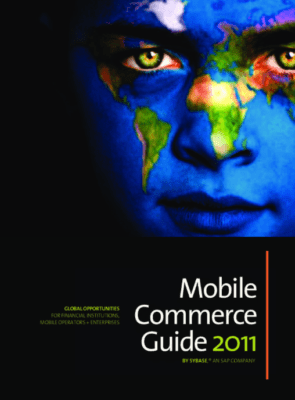 New Strategies for Mobile Marketing is a chapter in the Sybase Mobile Commerce Guide 2011, which helps financial institutions, mobile operators, and enterprise understand mobile commerce, frame their strategies, and guide their deployments. Click here to download the guide.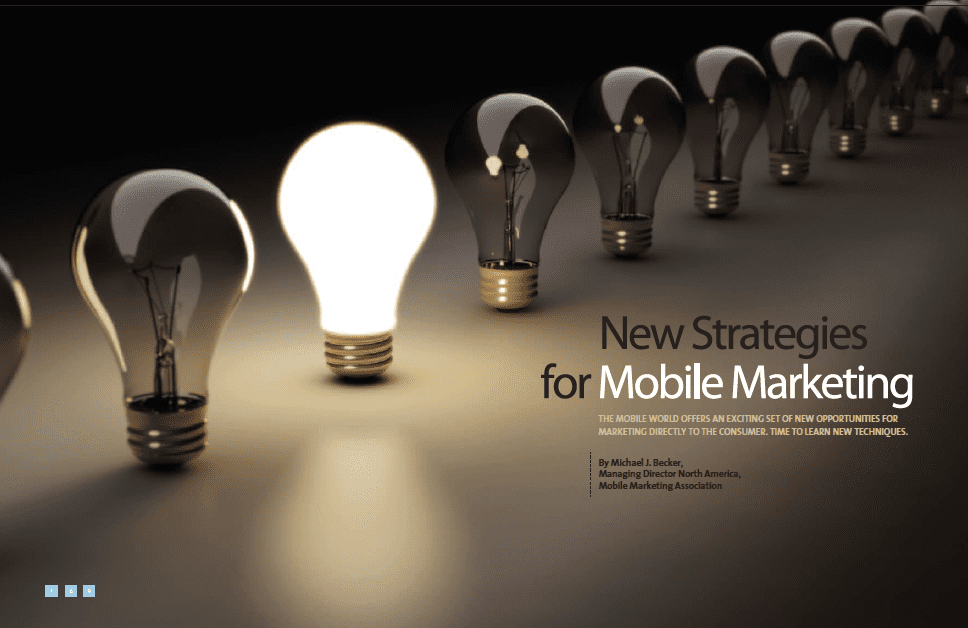 In just two decades, mobility has matured from a communication medium used by the executive road warrior and technology-savvy teenager within niche markets to a personal and commercial medium for the global masses. In a world with more than 3.75 billion unique mobile users and more than 10 billion mobile devices, hardly anyone is immune to the influences of mobility.
This mobile phenomenon is fundamentally changing the nature of personal communication, commerce and marketing. The resulting revenue streams are already apparent. In 2010, Google announced it surpassed $1 billion in global mobile advertising revenue, and eBay processed nearly $2 billion dollars in mobile transactions, up from its previous $1.5 billion estimate. ABI Research estimates that by 2015, more than $119 billion of goods and
services, or 8 percent of all eCommerce sales (transactions conducted through electronic media), will be sold via mobile devices.

The mCommerce opportunities are just beginning; in fact, tens of thousands of small and large business alike, including Best Buy, Coca-Cola, ESPN, P&G, Steve Madden, Target and TCBY Yogurt, are embracing mobile marketing to make their brands more accessible. They are going directly to where their customers are—and engaging them with mobile marketing and mobile commerce.
Consumers and marketers are employing mobile solutions to engage each other in a wide range of mutually beneficial ways through all eight mobile media paths (SMS, MMS, email, voice/audio, mobile Internet, applications, content, and proximity channels).
Marketers are using mobility for: Mobile Advertising. Marketers are placing text call-to-actions in SMS messages and static and rich media banners within MMS messages, mobile Web sites and applications to invite consumers to engage a brand. Mobile advertising creative can be as simple as announcing a product offering or as engaging as offering multi-channel (wired, mobile Web and apps) branded utilities.
A great example of this is the GMC MileageCalculator, a program powered by Microsoft Advertising in the third quarter of 2010 in North America. The GMC Mileage Calculator invites consumers to visit a mobile Web site and enter their vehicle's miles per gallon, their estimated annual highway miles driven and their average gas price per gallon. Consumers found out the amount of money they could save per year by driving a GMC Terrain. More than a million unique users participated in the program, for an estimated $2.8 million in potential savings to consumers._
Loyalty Programs. Marketers are engaging consumers with a wide range of loyalty programs that offer value to the consumer, such as exclusive content and experiences, VIP access to events and programs, coupons, rebates, vouchers and more. One of the most successful mobile loyalty programs is The Coca-Cola Company's My Coke Rewards Program.
Customer Care. Increasingly, marketers are recognizing that customer support can be enhanced through mobile. Mobile enhanced customer care can increase customer satisfaction and customer engagement and reduce support costs. Kaiser Permanente, a leading healthcare provider in California, saved $275,000 in one month when it piloted an SMS appointment reminder service._
Social Media. Marketers are embracing the intersection of social media and mobile. In 2009 and 2010, Volkswagen launched its GTI car in North America solely through mobile social media programs. It sold hundreds of cars and reduced the cost of sales by more than 90 percent._
Consumers are using mobile solutions to search for products, check product reviews and offers, find store locations near them, participate in loyalty programs, post comments and feedback regarding their experiences with marketers' programs, and so much more.
Mobile Commerce Starts with Mobile Marketing
MMA defines mobile marketing as a set of practices that enable organisations to communicate and engage with their audience in an interactive and relevant manner through any mobile device or network. Mobile marketing engages customers at every stage of the customer lifecycle, from awareness to brand-building advertising, prospecting, lead generation, customer relationship management, upselling, customer care, social media engagement and retirement stages.
The two approaches for mobile marketing are:
Directly engaging consumers through one or more of the eight mobile media paths, including SMS, MMS, email, voice, mobile Internet, applications, content and proximity channels
Indirectly engaging consumers through mobile-enhanced traditional and digital media, such as calls to action within television, print (newspapers, magazines, flyers, direct mail), radio, displays, Internet or other promotions that invite consumers to use their devices and respond.
Direct mobile marketing communication takes two forms: marketer initiated and customer initiated. For marketer-initiated communications, consumers must give prior permission to use their personal information before the marketer can initiate the communications. For customer initiated communication, the consumer must be aware of the marketer's mobile services.
Once a consumer has engaged through one or more of the available mobile media paths, the door to mobile commerce opens. The exact nature of the engagement will depend on the consumer's interests, preferences, the specific context of the engagement (time, activity, location, previous history with the marketer and mode of communication) and the marketer's business and campaign / program objectives. For the best success, tailor the program to the consumers' mobile devices. More specifically, the marketer should optimize the Web site for the mobile device and network.
Mobile device optimization ensures that the user experience is optimal for the time and place the customer is engaged. When optimizing a user experience, the marketer must consider:
The mobile medium used to engage the consumer
The consumer's device (feature phone, smartphone, tablet computer, game terminal and so on)
The device's features, including messaging capabilities, Internet capabilities and screen size (there are literally hundreds of parameters to consider).
To be optimized for the mobile network, you must consider the different networks, 2G, 3G, 4G, WiFi, Bluetooth and other proximity channels your customers may be using. The capabilities and the types of programs allowed to run over each of these networks will vary by service provider.
Leading mobile marketing solution providers can help you manage all the media, device and network parameters to ensure you're providing customers an optimal experience compliant with industry regulations.
Mobile Commerce Billing Methods
Nearly any good or service can be sold via mobile commerce, including native digital goods, converted digital goods and services and physical goods and services. For example, one can sell a ringtone, game or application, images, newspaper, an electronic book or magazine, event tickets, printers, cartridges, shoes and cars. (Table 1 illustrates the three main product categories that can be sold through mobile.) To complete a transaction, four billing methods and incentives can be employed:
Bill-to-Phone. Bill-to-phone methods such as premium SMS, wireless application protocol (WAP), and application or mobile Web billing allow organisations to charge a consumer for a product or service consumed on the phone. In the United States, subscribers can also make a charitable donation and have the value charged to the mobile phone bill. The mobile operator will, except for charitable donations where 100 percent of the proceeds are passed through to the charity, withhold anywhere from 30 to 60 percent of the fees charged to the consumer, leaving the rest for the enterprise to take or share with its partners.
To conduct bill-to-phone methods, marketers need an application provider or aggregator that has a built-in billing system that meets operator requirements. Although digital goods and services can be purchased now using bill-to-phone methods, some mobile operators are beginning to experiment with the ability to charge physical goods and service to mobile phone bills; however, such services have not been publicly released.
Credit Card Billing. To enable mobile customers to pay by credit card, marketers either work with an application provider to integrate mobile media storefronts into their existing eCommerce solution, or they work with mobile billing specialists such as Bango, Billing Revolution, PayPal and others that can manage the whole process. With this method, consumers can enter their credit card information via their mobile phone and have the transactions billed to their credit card.
Stored Value Billing. To bill against a mobile wallet, gift card, voucher, loyalty card, loyalty program point redemption and so on, the marketer, through its application provider, enables a consumer to buy a digital or physical product or service against the stored value balance. One great example in the U.S. is when people use their Starbucks loyalty card on their phone. Individuals can charge up their balance at a Starbucks store or via the Starbucks application on the mobile device and purchase their coffees by showing the phone upon purchase. The value of the purchase is debited against their account. Once the account is depleted, the top-up and depletion cycle happens all over again.
Point-of-Sale Payment. Next-generation mobile devices will be equipped with "contactless payment" chips such as Near-Field Communications (NFC), Radio Frequency Identification (RFID) and RFSIM (RFID on the SIM card) that are linked to debit or credit accounts. These chips emit a local frequency transmission that can be picked up by a point-of-sale (POS) solution when the mobile device is waved over it. Once the mobile device is detected, the POS can initiate a transaction.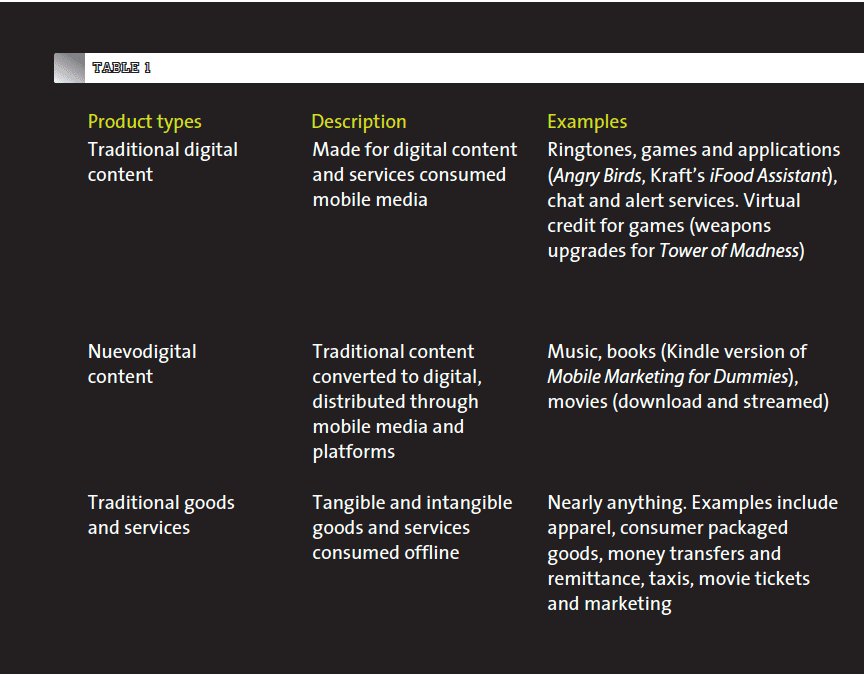 In addition to these four billing methods that capture the value of a transaction via mobile, marketers can also consider offering incentives to engage consumers or employing ancillary capabilities to enhance the relationship. Leading consumer engagement incentives include coupons, rebates and related discounts, chances to win prizes, sample products and experiences.
Incentives, combined with these four billing methods, can lead to increased consumer engagement and participation in the program. Recently launched loyalty programs that link with traditional retail in the United States include programs from Facebook Places, Foursquare and shopkick. For example, shopkick consumers who visit a physical store may opt-in to receive alerts on their phones; when they respond to the alert, they get kickbucks, or loyalty points, that can be used to purchase goods and services.
The Meeting of the Waters
Mobility is changing the face of communications, marketing and commerce forever. However, we are only at the beginning of the change. In the Brazilian jungle, the Amazon river (consisting of a rich clay color) meets the Rio Negre, a tributary (consisting of a deep black color). What makes this "meeting of the waters" special is that when the two rivers meet, they don't immediately merge. The two rivers run at different speeds, have different temperatures and are made up of different materials and densities. Rather than immediately merging, they co-exist in the riverbed for nearly four miles. The same thing is happening in marketing today. The two rivers of digital marketing and traditional marketing co-exist in the same consumer engagement river bed. And, like the Amazon and Rio Negre, it will take time for them to merge.
References
1 Ahonen, T.; Moore, Alan. (11/26/10). Preview of Mobile Stats to End of Year 2010: 5.2 Billion subscribers, 350M people got their first phone this year. Communities Dominate Brands. Retrieved 12/16, 2010, from Tinyurl.com/mobile-stats-to-end-of-2010.
2 Meeker, M. (4/12/10). Internet Trends. Retrieved 12/13, 2010, from www.morganstanley.com/institutional/./pdfs/Inter net_Trends_041210.pdf.
3 Tsirulnik, G. (2010). $1B mobile ad revenue may mean shot at top for Google. Retrieved 12/27, 2010, from www.mobilemarketer.com/cms/news/advertising/ 7772.html.
4 Siwicki, B. (1/6/11). eBay hits nearly $2 billion in m-commerce sales worldwide in 2010. Retrieved 1/18, 2011, from www.internetretailer.com/2011/01/05/ebay-hitsnearly- 2-billion-mobile-sales-worldwide-2010.
5+6 ABI Research, R. (2010). Shopping by Mobile Will Grow to $119 Billion in 2015. Retrieved 12/27, 2010, from www.abiresearch.com/press/3373 Shopping+by+Mobile+Will+Grow+to+$119+Billion+i n+2015.
7 Butcher, D. (2010). GMC mobile ad campaign increases purchase intent 22pc: Starcom exec. Retrieved 1/18, 2011, from www.mobilemarketer.com/cms/news/advertising/ 8019.html.
8 Justin. (2009). Kaiser Permanente Teams with mobileStorm for SMS Reminders, sees 30% Cost Savings. Retrieved 1/21, 2011, from www.mobilemarketingwatch.com/wordpress/wpcontent/uploads/2010/11/mmw_logo.png
9 Costa, Ron. (2010). Certified Text Message MobileMarketing: Volkswagen Mobile Marketing Branded Apps Increase Sales. Retrieved 1/27, 2011, from www.certext.com/volkswagen-gti-mobilemarketing- branded-apps-increase-sales