Coauthored by Michael Hanley and Michael Becker.
No one said creating a mobile channel would be easy
Depending on your point of view and which consumer, direct, channel, advertising or trade and research marketing publication you read, the mobile channel (which embodies a collection of disparate, but integrated, players and technologies) is either poised to become the next great marketing channel or continue to, for most, not meet market expectations. The reality is that the mobile channel embodies both outcomes, today. What confuses many people about the mobile channel is that they consider it to be one channel and it's not. The mobile channel is made up of many channels, including text messaging, multi-media messaging, voice, mobile Internet, Internet, Bluetooth, radio, TV, cinema and more. Each of these channels follows its own development, release, and adoption models. Moreover, the interjection and acceptance of advertising in each is different, as are the various ways to monetize consumer engagement. The practice of mobile marketing has only been around for a little over a decade worldwide, and less than five years in the United States. It is a new channel, and there is much to learn. Many marketers are embracing the mobile channel today, doing innovative mobile campaigns and achieving substantial success, while others are struggling to figure out how it applies to their business. Moreover, there are the naysayers who are providing a critical, and often helpful, skepticism as to the viability of the channel. We're at a tipping point where consumer, marketer, brand, and provider acceptance is beginning to emerge, and we are not ready to move on to the next phase of market development. One thing is clear, the mobile channel is here and it is here to stay.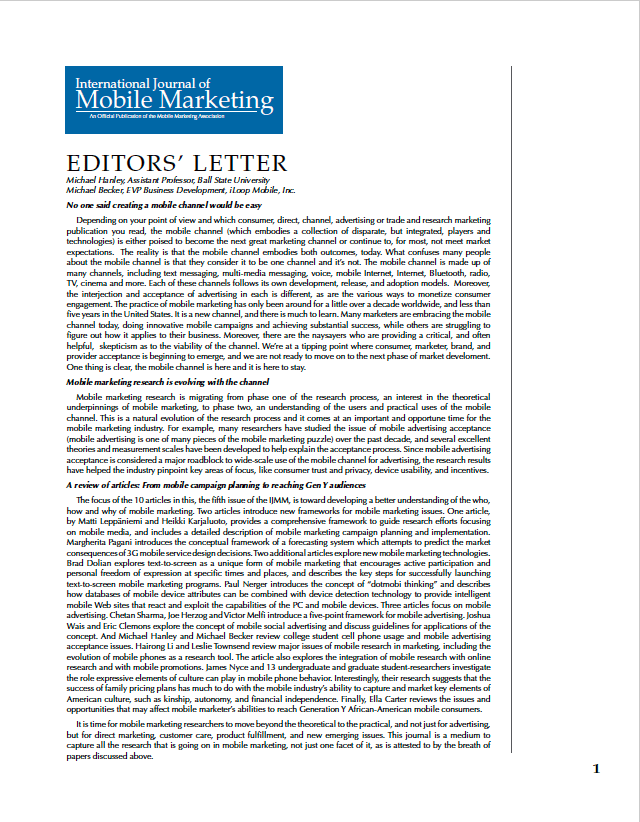 Mobile marketing research is evolving with the channel
Mobile marketing research is migrating from phase one of the research process, an interest in the theoretical underpinnings of mobile marketing, to phase two, an understanding of the users and practical uses of the mobile channel. This is a natural evolution of the research process and it comes at an important and opportune time for the mobile marketing industry. For example, many researchers have studied the issue of mobile advertising acceptance (mobile advertising is one of many pieces of the mobile marketing puzzle) over the past decade, and several excellent theories and measurement scales have been developed to help explain the acceptance process. Since mobile advertising acceptance is considered a major roadblock to wide-scale use of the mobile channel for advertising, the research results have helped the industry pinpoint key areas of focus, like consumer trust and privacy, device usability, and incentives.
A review of articles: From mobile campaign planning to reaching Gen Y audiences
The focus of the 10 articles in this, the fifth issue of the IJMM, is toward developing a better understanding of the who, how and why of mobile marketing. Two articles introduce new frameworks for mobile marketing issues. One article, by Matti Leppäniemi and Heikki Karjaluoto, provides a comprehensive framework to guide research efforts focusing on mobile media, and includes a detailed description of mobile marketing campaign planning and implementation. Margherita Pagani introduces the conceptual framework of a forecasting system which attempts to predict the market consequences of 3G mobile service design decisions. Two additional articles explore new mobile marketing technologies. Brad Dolian explores text-to-screen as a unique form of mobile marketing that encourages active participation and personal freedom of expression at specific times and places, and describes the key steps for successfully launching text-to-screen mobile marketing programs. Paul Nerger introduces the concept of "dotmobi thinking" and describes how databases of mobile device attributes can be combined with device detection technology to provide intelligent mobile Web sites that react and exploit the capabilities of the PC and mobile devices. Three articles focus on mobile advertising. Chetan Sharma, Joe Herzog and Victor Melfi introduce a five-point framework for mobile advertising. Joshua Wais and Eric Clemons explore the concept of mobile social advertising and discuss guidelines for applications of the concept. And Michael Hanley and Michael Becker review college student cell phone usage and mobile advertising acceptance issues. Hairong Li and Leslie Townsend review major issues of mobile research in marketing, including the evolution of mobile phones as a research tool. The article also explores the integration of mobile research with online research and with mobile promotions. James Nyce and 13 undergraduate and graduate student-researchers investigate the role expressive elements of culture can play in mobile phone behavior. Interestingly, their research suggests that the success of family pricing plans has much to do with the mobile industry's ability to capture and market key elements of American culture, such as kinship, autonomy, and financial independence. Finally, Ella Carter reviews the issues and opportunities that may affect mobile marketer's abilities to reach Generation Y African-American mobile consumers.
It is time for mobile marketing researchers to move beyond the theoretical to the practical, and not just for advertising, but for direct marketing, customer care, product fulfillment, and new emerging issues. This journal is a medium capture all the research that is going on in mobile marketing, not just one facet of it, as is attested to by the breath of papers discussed above.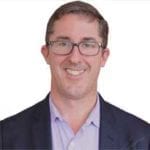 Michael Becker is an intentionally recognized identity & personal information management solutions strategic advisor, speaker, entrepreneur, and academic. He advises companies on personal information economy business strategy, product development, business development, and sales & marketing strategies. He also represents them at leading trade groups, including the Mobile Ecosystem Forum. Michael is an advisor to Assurant, Predii, Privowny, and Phoji. He is the co-author of Mobile Marketing for Dummies and a number of other books and articles related to mobile marketing, identity, and personal information management. He is on the faculty of marketing of the Association of National Advertisers and National University. A serial entrepreneur, Michael founded Identity Praxis, co-founded mCordis and The Connected Marketer Institute, was a founding member of the Mobile Marketing Association (MMA), and was on the MMA board of directors for ten years and was MMA's North American Managing Director for three years. In 2004, Michael co-founded iLoop Mobile, a leading messaging solutions provider. In 2014, Michael was awarded the 2014 Marketing EDGE Edward Mayer Education Leadership Award for his commitment to marketing education.