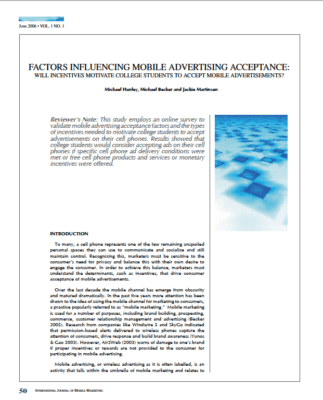 Reviewer's Note:
This study employs an online survey to validate mobile advertising acceptance factors and the types of incentives needed to motivate college students to accept advertisements on their cell phones. Results showed that college students would consider accepting ads on their cell phones if specific cell phone and delivery conditions were met or free cell phone products and services or monetary incentives were offered.
Introduction
To many, a cell phone represents one of the few remaining unspoiled personal spaces they can use to communicate and socialize and still maintain control. Recognizing this, marketers must be sensitive to the consumer's need for privacy and balance this with their own desire to engage the consumer. In order to achieve this balance, marketers must understand the determinants, such as incentives, that drive consumer acceptance of mobile advertisements.
Over the last decade the mobile channel has emerge from obscurity and matured dramatically. In the past five years more attention has been drawn to the idea of using the mobile channel for marketing to consumers, a practice popularly referred to as "mobile marketing." Mobile marketing is used for a number of purposes, including brand building, prospecting, commerce, customer relationship management and advertising (Becker 2005). Research from companies like Windwire 5 and SkyGo indicated that permission-based alerts delivered to wireless phones capture the attention of consumers, drive response and build brand awareness (Yunos & Gao 2003). However, Air2Web (2003) warns of damage to one's brand if proper incentives or rewards are not provided to the consumer for participating in mobile advertising.
Mobile advertising, or wireless advertising as it is often labelled, is an activity that falls within the umbrella of mobile marketing and relates to use of the mobile channel to deliver advertising messages directly to consumers. Unlike traditional advertising channels where the individual consumer is often anonymous, the mobile channel is extremely personal (Tahtinen & Salo 2003). Marketers can use the mobile channel to reach out and engage an individual directly, but with this capability comes great responsibility.
Read the complete article here (PDF 203KB).